Briargh are a band that I can only describe as brilliant; formed in Spain back in 2003, the one-man band have become an amazing mixture of black, death and folk metal, and does it in a way which can only be described as brilliant. Focusing on themes of paganism, mythology and history, the band are back with a new full length album entitled Eboros. A beautiful album with a mixture of beautiful melodies and riffs, hard-hitting and rough drums, as well as dark, screeching, Hellish vocals which adds power and energy into such a powerful album.
The first track on the album, "El Lianto Del Bosque", starts off with Burzum-sounding guitar melodies which mix beautifully with fast, heavy drums. When the deep, dark vocals start; the melodies and riffs quicken which add to the heaviness of the track. A track complete with different tempos add volume and depth to the track, and it is a brilliant start to the album.
Another track on the album which really stands out for me is the third track entitled "Sword of Woe" which for me is a perfect example of black metal infused folk metal. A song mixed with heavy vocals and female vocals and the mixture of the melodies and riffs on this track have already captivated me in a beautiful, enriched manor. Everything on this track is as heavy as anything including the vocals, melodies, riffs and drums. What really captivates me on this track is the "Whoa-wo-wo" clean vocals part of the track which makes folk metal really stand out on this track in a seamlessly beautiful way. This track for me works amazingly well and it is a track of complete perfection on the highest point.
"El Canto De Las Anjanas P.T II" is the sixth track on the album complete with hard-hitting drums beautiful melodies and riffs and raw heavy vocals kick off the track. Throughout the song can be heard slower riffs and melodies with heavier vocals adding power to this track. There is also a mixture of fast-paced instruments and tempo changes which add incredible beauty to this amazing piece of art. Keyboards and synths also come into work in this track which again just adds to the folk metal theme. This really is just a work of 100% perfection, and the use of the keyboards and synths add more beauty to an already beautiful track.
The last track on the album "Eboros – Epitome of Deat" for me was the best 5 minutes and 58 seconds of my life, a track that starts off with heavy keyboard and synths which almost sound like Summoning. Throughout tempo changes a beautiful keyboard melody can be heard behind what sounds like a male choir which gives off a mystical element on the track, when female vocals start the mystical element of the track, gives of pure beauty. As the female vocals end and synth melodies pave the way for heavy drums, bass and guitar riffs which makes the track seem darker and adds to the power behind the track. As the dark powerful screeching vocals enter the mystical element of the track may be washed away but the rawness and the power of the album remain right until the end.
A beautiful album which keeps on giving right to the end, an album that can only be described as flawless, perfect and beautiful a magnificent piece of art which is written in such a way where everything fits in this album (including instruments and vocals) flawlessly in an absolutely incredible album.
Original font: http://www.moshville.co.uk/album-review/2016/02/review-briargh-eboros/
Briargh
is a one man band made up of, Dux Briargh – All instruments and vocals. Music style is listed as, Melancholic Black Metal. Band location, Spain.
Eboros album released on October 27th, 2015, Morbid Shrine Productions. The music comes through with pure aggression and savagery. Nothing is over-processed. A very natural sounding recording is captured. Interesting aspects of the arrangements is how well the two guitar tracks compliment each other and trade of rhythms.
The song «Eboros – Epitome of Death», has a captive and creative keyboard piece along with female vocals complimented with a clean strumming guitar. A thing to note, these songs are all in spanish. It is the first time I have heard black metal with spanish lyrics, it fits well and adds a different dynamic to the album.
The drums have a natural sound and it is actually good to hear how intense the string parts are pronounced with the relentless battery of blast beats.
Final thoughts, if you want pure, abrasive and from deep in the underground metal music, then this is for you.
~Artemortifica
Some label owners are way too nice people.  They have their own music project but tend to promote other bands more.  I have no idea why they do that but it seems a habit of some people. Perhaps, they are a bit uncertain about their own abilities, certainly when they hear the masterpieces some other bands on their label produce.  Because of that, some serious gems are left being underrated and unknown, which really is a shame.
Briargh is the blackened pagan folk metal act by Morbid Shrine's owner Dux Briargh.  Influenced by acts like Burzum and Drudkh he started working on this project years ago.  To me, it sounds like a very old school black metal album with several folk influences thrown in, which obviously is a good idea. It's been awhile since I heard something like this and I have to say, I'm glad this album reached me.
What I like most about this album, is the combination of bleak black metal and the warm sound of the instruments.  It's an odd contradiction but one that works very well.  This isn't a mere blast-beats driven piece of black metal but a melodic and mysterious sounding version of the genre, highlighting in songs like 'El Llanto del Bosque' and 'Dubos Etenos'. Often I'm reminded of acts like Bergthron, Windir or Falkenbach.
I really think it would be a shame if this album wouldn't get much attention.  It is a very strong example of a strange and underrated subgenre.  So yes, I would like to recommend it to all the black metalheads out there, certainly the ones who love a bit of paganism and melody in their music.  Nice work…
​Serge
---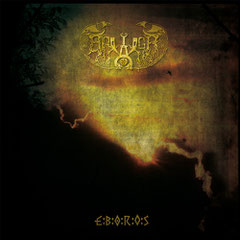 Briargh: Eboros (Review)
Artist: Briargh
Album:  Eboros
Medium:  CD
Stil:  Melancholic Black Metal
Label:  Morbid Shrine Productions
Erschienen:  October 27th, 2015
Website:    Briargh
Bereits der Opener «El Llanto del Bosque » prügelt gleich nach dem choralen Vorspiel los.
Schon die ersten Takte sind für eine Gänsehaut gut: Ein Einstieg, der an Intensität und Spannung reich ist und schwer fesselt – man wird förmlich eingesogen in die dunkle Landschaft von «Eboros».
«Silom Sego» ist eingängig, einnehmend und mit Hooks versehen, die nicht so schnell wieder aus den
Gehörgängen verschwinden. Hier wird das Tempo angezogen, die Bassdrum wummert vor sich hin.
Das folgende «Sword of Woe » brilliert mit seinem markanten Rhythmus, «El Canto de las Anjanas (Pt II) »  ist der vielleicht stärkste Song auf dem Album, sicherlich aber, ob seiner Klasse, besonders erwähnenswert ist auch «Dubos Etenos» und «Sun of the Dead». Jede instrumentelle Einzelleistung ist
dabei beachtlich – wieder einer dieser Punkte, die jeden weiteren Hördurchlauf interessanter macht und der «Eboros» eine besondere Note gibt. Über «El Nubero de Samhain » geht´s zum Albumabschluss: «Eboros – Epitome of Death «.
Thomas Müller
Line-up
Dux Briargh – All instruments and vocals
Track list:
1. El Llanto del Bosque
2. Silom Sego
3. Sword of Woe
4. Dubos Etenos
5. Sun of the Dead
6. El Canto de las Anjanas (Pt II)
7. El Nubero de Samhain
8. Eboros – Epitome of Death
Original font: http://www.franconiametallum.de/cd-reviews/genreportal-cd-reviews/briargh-eboros/
https://morbidshrineproductions.com/wp-content/uploads/2015/11/scvtvm.jpg
1764
1152
Morbid Shrine
http://morbidshrineproductions.com/wp-content/uploads/2018/01/logosinfondo.png
Morbid Shrine
2016-02-27 09:18:26
2016-02-27 09:18:26
Some reviews of Briargh «Eboros»!